A tile roof makes a strong first impression. Expensive, heavy, and durable, this roofing material will likely last nearly 100 years.
While traditional roofing tiles were made from fired clay, modern roof tiles are made from concrete. Whether you select curved, fluted, interlocking, or flat shapes, all tiles are an excellent choice for homes located in hot weather climates. This is why they are a popular choice in the Southwest, California, and coastal communities.
While tiles are durable, there are certain conditions that can cause them to break. Here are a few considerations to ponder before selecting this timeless roofing material.
Tile Roof Pros and Cons
Pros of Tile Roofing
Let's start with the good stuff. There are plenty of advantages to tile roofs. They include:
Lifespan: Tiles are crafted to last over 100 years. They can withstand hail, heavy winds, and even fire. Once you apply this roofing material it's a safe bet you'll never have to re-roof in your lifetime. In the event you do, most tile manufacturers back up their product for up to 50 years. 
Choices and more choices: Concrete, slate and even clay tiles come in a variety of hues and styles, so don't think you're stuck with just terracotta. Whether your home is contemporary or medieval in design, there are tile options that will suit it just fine.   
No insects, mold, or rot: With tile roofs, you can kiss bugs and decay goodbye.
Environmentally friendly: You can feel good about your tile roof because it's not made from chemicals, but rather from earth's natural minerals. They can even be recycled once removed. 
Energy efficiency: Indoor temperatures are regulated thanks to the heavy thermal mass of the tile.
Low maintenance: Roof leaks? What are those? With a tile roof, you'll probably never know. It's a rare occasion that your roof will need maintenance or repair.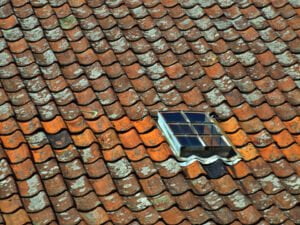 Cons of Tile Roof
Despite plenty of advantages, roof tiles have a few not-so-attractive traits. Let's take a look:
Costly: Certainly not for the budget-minded, clay roofs can average anywhere from $675-$1400 per square. Concrete is more affordable and checks in at around $450 per square. It's important to factor in their long life if you're on the verge of being deterred by their price.
Installation: Unless you're a roofing professional, don't try tile roof installation on your own. They need to be laid specifically to ensure no water can penetrate.
Weighty: Tiles are not fit for every roof structure. Your home must be able to carry about 850 lbs. per square, versus asphalt shingles, which only weigh 225-325 lbs. Not every home can support this load. If you need structural reinforcement you'll have to factor that as an additional cost.
Brittle: Even though they're strong, tiles can break if they are hit with sudden impact. Repairs can be costly if the need occurs.  
Contact Heritage for Your Tile Roofing Needs
Once you consider the advantages and disadvantages of tile roofing you can make a well-informed material decision with confidence. Contact Heritage today for a free roof assessment to see if a tile roof is a good fit for your home. (And pocketbook!)