Don't let your green roof be the source of envy. After all, everyone appreciates the most inviting home on the block.  If you have a metal green roof, your home boasts an unusual yet inviting personality, and there are endless house exterior colors for your metal roof that will complement its classic allure. Take a look.
Best Exterior Paint Colors for a Green Roof
From farmhouses to cabins to large estates, these exterior color combinations for a metal green roof work each and every time.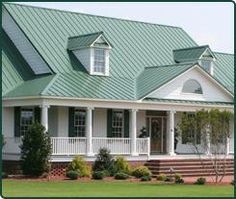 White- Crisp and clean and somewhat preppy, white houses paired with a metal green roof work in most neighborhoods. Traditional homes, vintage bungalows, and even modern architecture pairs like a glove with a white and green exterior home color palette.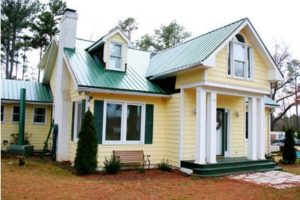 Yellow-
Yellow and green are both statement colors in this home, and they manage to work together beautifully. A touch of white paint softens the bold palette and keeps the exterior crisp and clean. This happy color palette boasts friendly curb appeal.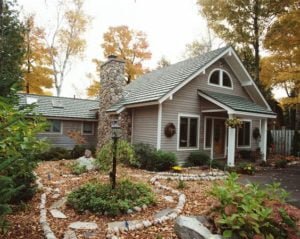 Taupe-
Taupe homes with white trim offer an easy-on-the-eye exterior. For best results, when you're considering your roof color always look at your exterior features that can't be changed. The landscape, setting, and stonework of your home will help you select the best metal roof for your home. In this case, it's green for the win!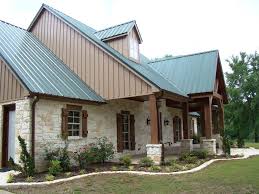 Stone- For the little cottages and cabins nestled in the woods or the mountains, a metal green roof feels right at home. Mimicking the palette of its natural surroundings, rustic homes that pair brown and green make for a rugged and relaxing retreat. Neutral stone homes are a natural pick for a green metal roof. The strength of both materials alone makes this a solid choice when roofing your Texas home with a green metal roof.
Contact Heritage for Your Metal Roofing Needs
As you can see, a green roof works with a variety of exterior color schemes. Now it's time to make a decision.
If you want a new green roof for your home, you'll need to find a reputable roof contractor in your area. Be sure to read our tips on how to find one. If you're in Texas, contact Heritage Construction. Family-owned and operated, we proudly offer a lifetime workmanship warranty. Need help with design ideas? Our roofing experts can help you choose the best metal or asphalt shingle roof for your needs. Call us today to get started on this exciting home renovation project and boost the value of your home.
Home improvement loan financing is always available. Apply today.